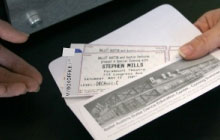 Season Tickets holders are most valued patrons of any arts organization. We realize the importance of them and we give you the tools to give them a good, easy and consistent experience year-over-year.
Can I keep my seats from season-to-season? Most definitely! While it is up to the venue to set their season ticket renewal time period throughout the year, we make it easy to ensure all renewing patrons keep their sits!
Can a season ticket holder get automatic discounts on other events? Season ticket holders can be assigned an overall discount for all other performances not part of the season ticket. These discounts are available only through the venue's box office to maintain a personal level contact experience for the season ticket holder.
Payment plans? We have that. As a venue, you have the ability to offer payment plans for season ticket holders. This will give you the ability to get new season ticket patrons who don't necessarily have the available funds to make a one-payment purchase.